The Health Club is one of the options at Transamerica Ilha de Comandatuba Hotel for anyone who cares about good form, relaxation and aesthetic. You can work out in the Fitness Center, or enjoy the sauna and steam room.
To top it off, the Health Club also features a Beauty Salon with hair stylists, manicures and pedicures at your disposal.
Fitness Center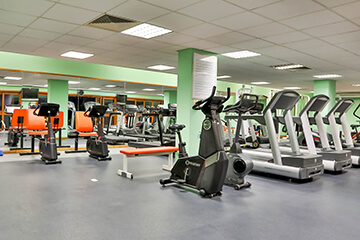 Enlarge photo
Work out in our fitness center.
Infrastructure: Gym with weight machines, stationary bikes, treadmills and step.
Hours: from 7:00 am to 8:30 pm
Sauna
Dry and steam saunas, with rest room.
Infrastructure: Dry and steam saunas, separate for men and women, but shared restroom.
Hours: from 5:00 pm to 9:00 pm
Beauty Parlor
Full service salon with top professionals provided.
Infrastructure: A hairdressing salon, pedicure and manicure services.
Hours: Monday to Saturday from 10:00 am to 10:00 pm
Note: You must make an appointment in advance. This service has additional cost.
Health and Medical Venue
24 hours on call for your peace of mind.
Note: This service has additional cost.